Wee Yellow Golf Book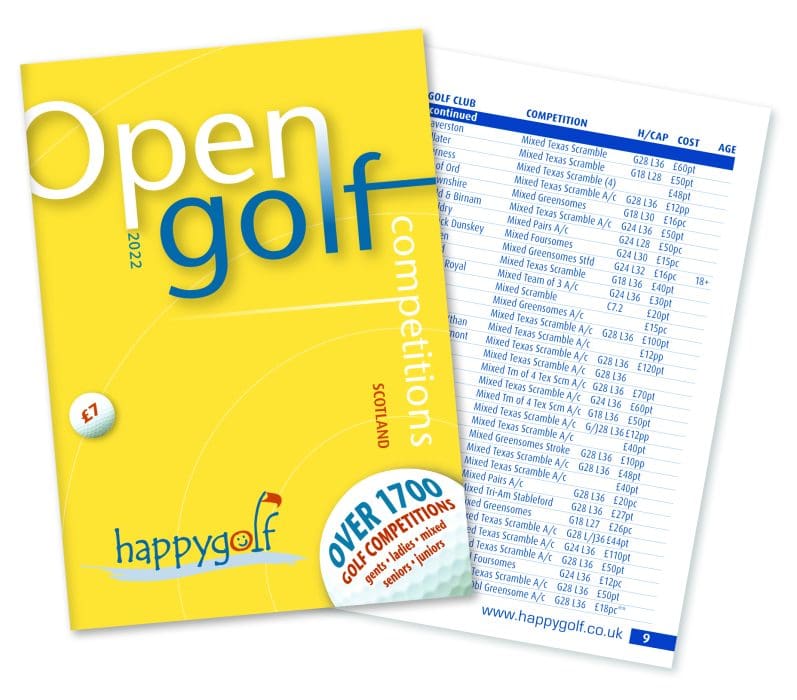 21/01/2022
It is with regret, that I have to advise that after producing the happygolf wee yellow book for 15 years it will no longer be produced.
The reason for not publishing the wee yellow book are:-
Not enough pre-orders (although a few more would have justified printing)
A large amount of Scottish Golf Clubs have yet to add their opens to the happygolf web site, which in turn is used to produce the wee yellow book by the end of January. The golf clubs concerned have now been contact 3 times.
Anyone who has paid via PayPal has been refunded and cheques will be destroyed.
I would like to take this opportunity to thank everyone who has shown their support by purchasing a happygolf wee yellow book or in some cases several wee yellow books over the years.  
Technology seems to be the way forward.  Check the web site frequently, as hopefully, very soon all the Scottish Opens will be found there.
Elizabeth Hughes
Managing Director
PRE ORDERS for 2022 wee yellow book
(there are not enough pre-orders to print the book as off 15th January. I will extend the deadline to 21st January but after that if not enough pre-orders no book)
2022 booklet will be published at the end of January if there are enough pre-orders by the 14th January.  
(purchase book bottom of page)
If book is not published money will be refunded.
The publication with all the details you need to enter over 1700 open golf competitions across Scotland in 2022.
Small in size, easy to carry, 72 pages packed with information arranged in a way that makes identifying competitions YOU wish to play, easier than ever before.
Booklets cost £7.00 each (plus 2nd class postage & packing within the UK at £1.00).
Access to view over 10,000 open golf competitions throughout the UK and Ireland is FREE.
Purchase our Wee Yellow Golf Book
Pay By Cheque
Cheque Payable to – Avanti Graphic Design Ltd
Send Cheque with Name, Address, number of books + e-mail address to 
happygolf
11 North Street
Milnathort
Kinross-shire
KY13 9YF
Bacs
To pay via Bacs contact via e-mail or telephone 0780 160 7664 for details.