Yonex Lady Pairs Golf Tour

5th July - 20th September 2021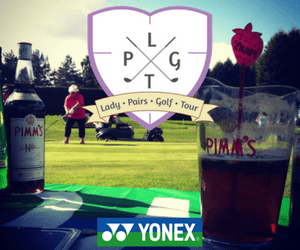 Yonex Tour Championship Final
30th September Buckinghamshire Golf Club
£5,000 of prizes
Four years ago we noticed a boom in amateur golf competitions in the UK, but only for men!
​
We are the Yonex Lady Pairs Golf Tour, PGA Professionals offering fabulous, unique, two-day golf tournament experiences for lady golfers in the UK. We offer accommodation packages, fantastic food, Pimms, goody bags, clothing boutiques, live leaderboards, lots of fun, and the chance to meet and play with like-minded lady golfers.
​
We are delighted to announce that in 2019 we will be running our second YONEX TOUR CHAMPIONSHIP finals day for the top 3 pairings that qualify from each event. There will be £5,000 worth of amazing prices to be won at the TOUR CHAMPIONSHIP in 2019 as well as the honour of being crowned YONEX LPGT Tour Champions!
Format
Our events are played in pairs, 4BBB (betterball) format over two days. We add your stableford score from day one, to your stableford score from day two for an overall points score.
The handicap allowance for all players is 90% handicap. Max handicap is 36.
After a redraw following the first day, the leading pair from day one will tee off last on day two, like most professional golf tournaments. We will email all of the day two start times in the evening when the draw has been complete.
​
Top 3 pairs from each event will qualify through to the YONEX LPGT TOUR CHAMPIONSHIP at The Buckinghamshire on Monday 30th September 2019.
Events
The Sussex Masters 
Thur 13th & Fri 14th June
A new event in the 2019 schedule. We're going to play both of the courses at Dale Hill in our first ever resort-style event with hotel accommodation on-site.
Hertfordshire Crown 
Mon 8th & Tue 9th July
After a great second running of the event in 2018, we're off to Essendon CC for day one and an LPGT favourite venue for day two, the beautiful Knebworth GC.
The Midlands Festival
Wed 10th & Thur 11th July
Walmley Golf Club was immaculate last summer and received rave reviews, Robin Hood was equally as good and both courses offer a fantastic parkland experience.
The Monmouth Challenge
Tue 23rd & Wed 24th July
Join us for our fifth edition of the famous Monmouth Challenge! Rolls of Monmouth & Monmouthshire in the wonderful surroundings of Welsh countryside.
The Henley Classic
Wed 7th & Thu 8th August
Badgemore Park and the prestigious Sonning Golf Club were both in fantastic condition over the past few years and we can't wait to return in 2019.
The Northern Jewel 
Thu 29th and Fri 30th August
Two fantastic, picturesque golf courses offer a brilliant Northern event for competitive local golfers and those who wish to travel, stay and play. Huddersfield Golf Club and  Woodsome Hall Golf Club
Enlarge map to view all venues for Yonex Tour.
Key
Golf Clubs with Golf Week / Tour & Open Golf Competitions

Golf Clubs with Open Golf Competitions