Mizuno Golf Pairs Tour 2022

12th April - 14th October 2022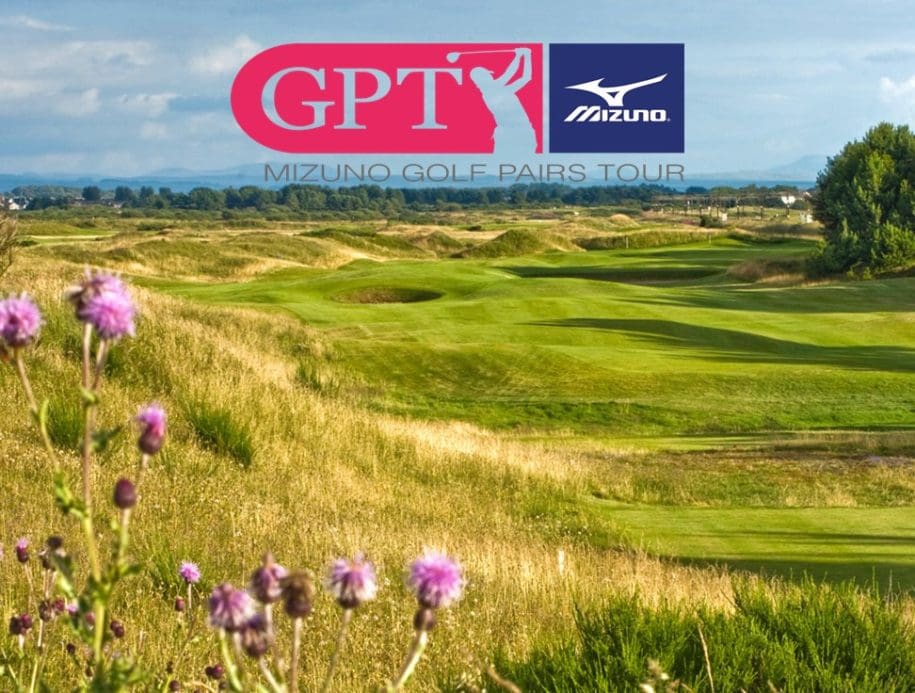 Win a holiday for 2 people
at a top European destination
at each tournament
Mizuno Golf Pairs Tour has become the biggest amateur tour in the United Kingdom with over 100 professionally hosted tournaments on their 2022 calendar with 2 order of merit  leader boards at each event.
Established 9 years ago, with a reputation for hosting friendly and professional tournaments throughout the UK and Overseas.
Each competition is played in a better ball stableford format, 85% handicap aligned with WHS rules. Ladies (28) Gents (24) higher handicaps may enter but play off L28 & G24.
Single golfers welcome. We will pair you up with other golfers.
Winners at each tournament win a holiday for 2 to a top European destination or finish in the top 5 pairs in either of the order or merits.
Prizes, live scoring, and a sleeve of golf balls per person at each tournament, together with an overall prize (what is the prize?) 
£2,500 worth of prizes at each tournament including
1st prize  overseas holiday
2nd – 6th places  great prizes including, 4 balls at top venues, entry to future events, Mizuno and Golf Pairs merchandise.
Hole in One prize 10,000 at each tournament.
Additional on course prizes.
Par 3 Competition £10 per couple – Finals day for winners.
Event Venues, Dates &  Entry Fee
100 Tournaments throughout Scotland, England & Wales a venue for everyone.
Play several tournaments within an region at a reduced price. Fantastic value Bundles.
Tournaments are filling up fast so book today for a great day out.
April (prices are per person)
Royal St George's – 12th – £219.99 (Already SOLD OUT)
Oxfordshire – 13th – £59.99 (Already SOLD OUT)
Remedy Oak – 19th – £129.99 (Already SOLD OUT)
Isle of Purbeck – 20th –  £54.99 (Already SOLD OUT)
Machynys Peninsula – 21st – £49.99 (Already SOLD OUT)
Tenby – 22nd – £44.99(Already SOLD OUT)
North Wales – 25th – £44.99(Already SOLD OUT)
Porthmadog – 26th – £44.99 (Already SOLD OUT)
Wales 3 Days – 27th – £209.99(Already SOLD OUT)
(incs Aberdovey, RDS & Conwy)
May (prices per person)
Montrose – 1st – £59.99
Fife 3 Days – 2nd – £299.99
(incs Dumbarnie, Leven, Ladybank)
Princes – 11th – £99.99
Royal Cinque Ports – 12th – £179.99
Farleigh – 16th – £44.99
West Hill – 17th – £129.99
Hankley Common – 18th – £129.99(Already SOLD OUT)
Chesterfield – 19th – £49.99
Matlock – 20th – £44.99
Marlborough – 23rd – £49.99
Bearwood Lakes – 25th – £199.99
Kings Lynn – 26th – £69.99
Aspley Guise & Woburn Sands – 27th – £49.99
Saffron Walden – 30th – £49.99
Hunstanton – 31st – £104.99
June (prices per person)
Hollinwell – 1st – £109.99
Asburnham – 2nd – £49.99
Celtic Manor – 3rd – £129.99
Hallamshire – 6th – £54.99
Cavendish – 7th – £44.99
Irvine – 8th – £59.99
Dundonald – 9th – £109.99
The Carrick – 10th – £79.99
Worplesdon – 15th – £129.99
Walmer & Kingsdown – 16th – £44.99
Littlestone – 17th – £79.99
Slaley Hall – 21st – £59.99
Fulford – 23rd – £74.99
Moor Allerton – 24th – £49.99
Royal Ashdown (Old) – 27th – £79.99
Hayling – 28th June – £89.99
Stowmarket – 29th – £49.99
Aldeburgh – 30th – £109.99
July (prices per person)
Orsett – 1st – £69.99
Dunstable Downs – 4th – £49.99
Woburn – 5th – £199.99
Seacroft – 6th – £49.99
Waltham Windmill – 7th – £44.99
Woodhall Spa -8th – £109.99
Weymouth – 11th – £44.99
Thetford – 12th – £49.99
Royal Norwich – 13th – £109.99
Walton Heath Old – 15th – £189.99
Sandwell Park – 18th – £49.99
Llanymynech – 19th – £44.99
Caldy – 21st – £79.99
The Belfry – 22nd – £149.99
Bamburgh – 27th – £54.99
Dunstanburgh Castle – 27th – £44.99
Granton – 28th – £124.99
Alw0odley – 29th – £124.99
August  (prices per person)
Plye & Kenfig – 1st – £64.99
Royal Porthcawl – 2nd – £149.99
Forest of Arden – 3rd – £89.99
Ely – 4th – £54.99
Royal Cromer – 5th – £79.99
Sherwood Forest – 8th – £79.99
Gog Magog – 9th – £69.99
Goodwood Downs -10th – £89.99
The Players – 11th – £54.99
Bristol & Clifton – 12th – £49.99
Eden -14th – £44.99
Windermere – 15th – £44.99
Seascale – 16th – £49.99
Tain – 17th – £59.99
Fortrose – 18th – £64.99
Royal Lytham (Championship) – 18th – £209.99(Already SOLD OUT)
Strathpeffer – 19th – £44.99
Bonar Bridge – 20th – £44.99
Durness – 21st – £44.99
Reay – 22nd – £44.99
Wick – 23rd – £44.99
Brora – 24th – £79.99
Golspie – 25th – £79.99
Royal Dornoch (2 days) – 26th – £219.99
(incs Championship and Struie)
Little Aston – 26th – £114.99
Speyside (3 days) – 28th August – £249.99
(incs Castle Stuart, Boat of Garten & Spey Valley)
The Gove – 29th – £169.99
September  (prices per person)
Fleetwood – 1st – £44.99
Pleasington – 2nd – £54.99
Addington – 5th – £89.99
Harleyford – 6th – £49.99
Calcot Park – 7th – £54.99
Widernesse – 8th – £99.99
Trentham – 12th – £54.99
Droitwich – 13th – £44.99
Hawkstone Park – 19th – £44.99
Stoneham – 22nd – £89.99
Cape Cornwall – 27th – £44.99
St Mellion (2 x Nicklaus 2 days) – 28th – £159.99
Burham & Berrow  – 30th – £99.99
October  (prices per person)
Charity Event supporting Maggies – 14th Oct – £150
Key
Golf Clubs with Golf Week / Tour & Open Golf Competitions

Golf Clubs with Open Golf Competitions