Mizuno Golf Pairs Scotland 500 Tour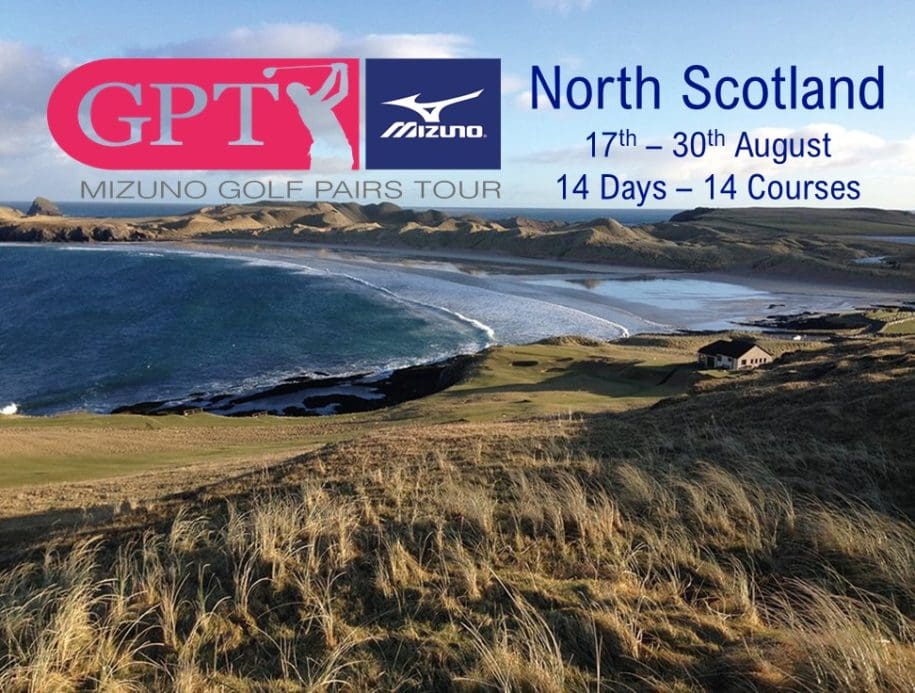 Win a holiday for 2 people
at a top European destination
at each tournament
Mizuno Golf Pairs Tour has become the biggest amateur tour in the United Kingdom with over 130 professionally hosted tournaments on their 2022 calendar.
Established 9 years ago, with a reputation for hosting friendly and professional tournaments throughout the UK and Overseas.
The inaugural Scotland 500 Tour brings 14 golf courses together in 1 tour. Courses include links, parkland, 9 & 18 hole. You can pick one or more of these stunning unique venues ranging from the remote Durness to the championship Royal Dornoch & Castle Stuart or one of golfs  'Hidden Gems' Tain, Brora, Reay and more……
Stunning scenery along the North Coast 500 route coupled with fantastic courses and professional run tournaments makes for an amazing experience.
Each competition is played in a better ball stableford format 85% handicap aligned with WHS rules. Ladies 28 and Gents 24 higher handicaps may enter but play off L28 & G24.
Winners at each tournament win a holiday for 2 to a top European destination or finish in the top 5 pairs in either of the order or merits.
Prizes, live scoring, and a sleeve of golf balls per person at each tournament, together with an overall prize for the most OOM points across the NS500 Series.
Anyone brave enough to take on all 14 days will be rewarded with a special Mizuno Golf Pairs Polo Shirt to commemorate this achievement of endurance.
Event Venues, Dates &  Entry Fee
August (prices are per person)
Tain – 17th – £59.99
Fortrose – 18th – £64.99
Strathpeffer – 19th – £44.99
Bonar Bridge – 20th – £44.99
Durness – 21st – £44.99
Reay – 22nd – £44.99
Wick – 23rd – £44.99
Brora – 24th – £79.99
Golspie – 25th – £79.99
Royal Dornoch (2 days) – 26th – £219.99
(incs Championship and Struie)
Speyside (3 days) – 28th August – £249.99
(incs Castle Stuart, Boat of Garten & Spey Valley)
incs Brora, Golspie and Royal Dornoch (2 days) Castle Stuart, Boat or Garten, Spey Valley £600 (save £30pp)
incs Royal Dornoch (Championship + Struie), Castle Stuart, Boat of Garten and Spey Valley.
Key
Golf Clubs with Golf Week / Tour & Open Golf Competitions

Golf Clubs with Open Golf Competitions